An article by Michele Bruche in YongeStreet--a Toronto online magazine on "all the things that create incredible demand for this place and keep it growing"--highlights the importance of public spaces and the community's role in their creation. In this case, the place is Campus Martius Park in a renewing Detroit. The article begins:


"Nothing was there," says Bob Gregory, president of Campus Martius Park. "It was not a very pleasant place to be."

To turn it around, the mayor's office established a task force that studied the best public spaces in the world and quizzed the locals on how they would use a new park. After a $20-million investment, the park started buzzing year-round with music, a bistro, and ice skating under colourful lights and a giant Christmas tree. The park has since attracted several new corporate headquarters, new condos and a whopping one million park visitors each year.

The strategy that built Campus Martius is called "placemaking," and it's a development approach gaining momentum across the continent. The strategy gives local residents and stakeholders a major voice in shaping new development. . . .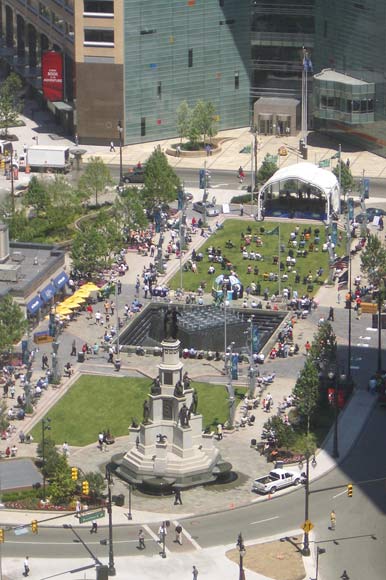 Campus Martius Park, Detroit, MI
. . . The state of Michigan, for example, is focusing on placemaking initiatives as part of its economic development strategy. "Economic development and community development are two sides of the same coin," Gov. Rick Snyder told the Michigan Legislature last winter. "A community without place amenities will have a difficult time attracting and retaining talented workers and entrepreneurs, or being attractive to business." (emphasis added)

Kent's son, PPS vice president Ethan Kent, says placemaking is striking a chord in the current economy because it's resourceful and builds on a city's existing assets. And the placemaking philosophy requires extensive public buy-in upfront, so officials can stand on safer ground politically. "Building convention centers and using tax incentives to attract big corporations or new business isn't working," Ethan says. (emphasis added)
Click here
for details on this placemaking effort and the role of Fred Kent in pursuing placemaking initiatives.