Michael Lee Pope, the Connection newspapers, writes that Fairfax County spends less per capita and well below statewide averages on its public libraries. So, despite being the widely talked about second-wealthiest county in the country, the Board of Supervisors simply won't invest in its libraries.
Here are excerpts from the article: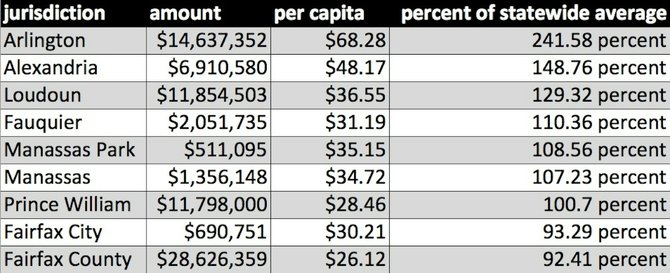 What is the future of the neighborhood library?
That's an open question as jurisdictions across America are rethinking their library system, a revaluation brought on by tight budgets and technological change. Here in Northern Virginia, jurisdictions have taken a variety of approaches to funding libraries. Some, such as Arlington, have restored almost all the funding cut during the recession. Others, such as Fairfax County, lag behind the statewide average.
"We are very concerned about this because our funding is far down behind the rest of the state of Virginia and in the entire metropolitan area as well," said Charles Fegan, vice chairman of the Fairfax County Public Library Board of Trustees. "How are we going to get books on the shelves? How are we going to get hours?" . . .
When the recession hit, all Northern Virginia jurisdictions cut back on library funding. Some have made efforts to restore funding, while others have lagged behind. Arlington had led the way in restoring almost all the hours that were cut in their neighborhood libraries, although the Central Library still opens an hour later than it used to and closes an hour earlier than it used to. But overall, Arlington's library system remains one of the best in the region. Earlier this month, the Library Journal named the Arlington Public Library one of six "star" libraries in Virginia. . .
Nowhere will the battle (for a larger public library budget) be more pitched than Fairfax County, where libraries are still working with reduced staffing and reduced collections. Members of the library's board of trustees say they are ready to make a pitch to the Board of Supervisors that it's time to restore the hours that were reduced and add back the funding for the collections.
"A library is the heart of a community," said Fegan. "I've spoken to a number of people who have come into this country, and the first thing they did was get a library card."
Click here to read the full article.
The Board of Supervisors inattention to the quality of life of its residents, one measure of which may be the availability of a well-endowed public library system, has been horrible over the last half-dozen years. We hope, but do necessarily expect, that the Board's reckless record will begin to be reversed this budget cycle.