This link will take you to this recently released report by the EPA's Office of Sustainable Communities, Smart Growth Program.
And here's a look at the cover: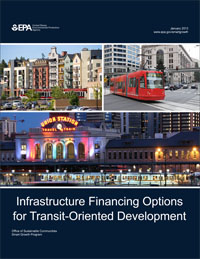 This extract from the introduction provides some context for this research report:
The challenges of funding and financing TOD infrastructure call for continued innovation and creativity in identifying appropriate funding and financing tools and combining those tools into comprehensive strategies. This report reviews the tools and strategies that local governments, in partnership with transit agencies and regional, state, and federal government can deploy to meet the challenges of paying for the infrastructure required to attract and support TOD. Some of these tools and strategies have rarely been applied to TOD infrastructure and might require modification to apply in TOD contexts. The descriptions and examples in this report are intended to help local governments learn about these tools, encourage consideration of these emerging approaches, and, where appropriate, spur the development of modified tools.